Multi-entity accounting is a common need for many growing companies. Whether it is through acquisitions, growth across new geographies, the introduction of new product lines, or any other factor; companies eventually expand and need to decide whether they centralize their accounting processes or keep them decentralized across their different entities.


A significant point to take note of is the amount of resources that each new entity requires to be managed. Each new location comes with more vendors to pay, customers to invoice and collect from, and employees on payroll. This is a key reason why a company may investigate centralizing their payables processing and avoid redundant and inefficient operations.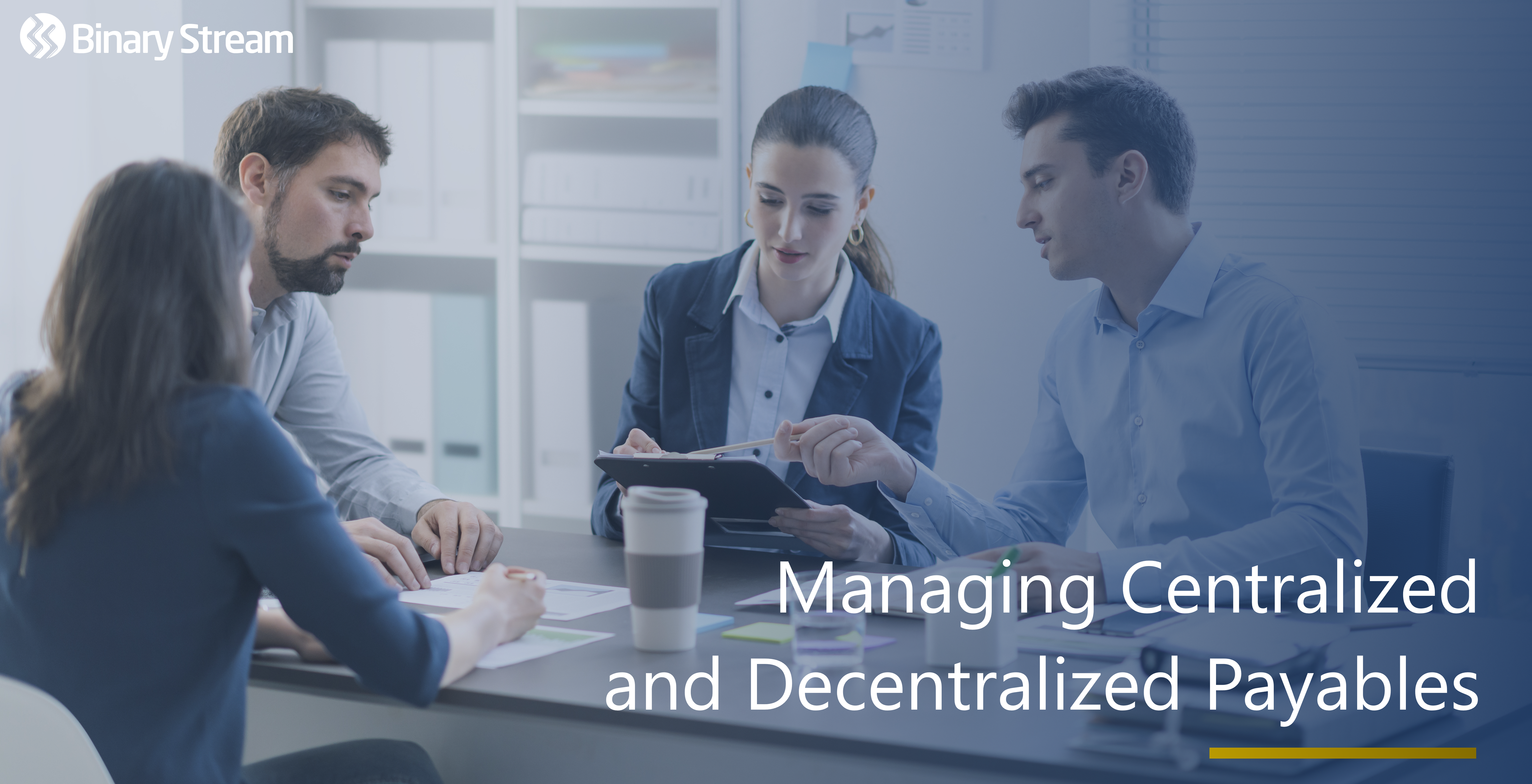 What is centralized payables processing?
Centralized payables processing is the act of combining the accounts payable processes from different locations to be managed in a singular location. This allows companies to overcome inefficiencies or redundancies that may result from having disparate systems and operations.


The benefits of centralized processing:
Centralizing payables processes helps organizations eliminate much of the redundant work that each individual location may be doing, but there are other benefits beyond that. With companies where the separate entities are all operating within the same space and are simply different branches (e.g. restaurant franchises, gas stations … etc.), branches within the same region may be working with the same vendors and customers.
In the case of vendors, the corporate head office can realize further gains by centralizing the processes since they can negotiate better rates or prices based on volume discounts resulting from the purchases made by all their branches combined.
Aside from the immediate opportunity for decreasing costs, centralizing payables also helps companies have more consistency in their recordkeeping and better coordination in all steps of the process. Centralization also ensures that staff members are all trained and operate similarly, and redundancies, disagreements, errors, and duplications are avoided.
For vendors, working with a customer that operates a centralized payables department is much easier since they can consolidate invoices and lower the risk of missed payments.


The benefits of decentralized processing:
While all the points above are compelling arguments for adopting a centralized approach to payables, there are some situations where retaining a decentralized system is preferable. One such case is companies that operate across multiple countries different standards or needs. In this situation, a centralized system can be prohibitively costly or challenging to create and manage.
For other cases, the security and accessibility of having all payment processing at the relevant site is significant. While most organizations would have a hierarchy with one head office or parent company controlling the child companies, there could be cases that require that each company is self-managed and can freely access and control its operations.


Centralized payment processing features:
Whether you are planning a move to centralized accounting for the first time or you are currently operating in that mode, an important factor to consider is the accounting software that you implement.
The Centralized Payment Processing feature of Multi-Entity Management allows for a corporate head office or parent company to send one check to a vendor for all entities including itself that includes proper intercompany distributions during payment processing. At its core, this feature is built to cut down the amount of time you and your organization spend processing vendor checks for multiple entities.
The productivity gains of centralizing your accounting and finance processing are immense. However, it's very difficult to set up in typical multiple database environments. With Centralized Payment Processing in MEM, you're easily able to centralize not just the processing of payments, but also receipts, payroll, invoicing, and purchase orders.
This feature will help many departments of your organization run smoother and more efficiently. In centralizing all of the facets of accounting, organizations cut down the chance for human error, and streamline their reporting processes so they can operate with more agility and confidence.
With Multi-Entity Management, rather than sending multiple cheques to the same vendor, organizations can send one cheque on behalf of all entities. They can also process a single purchase order for multiple entities, a bill from a corporate head office and fulfill stock from a branch office.
Mekorma's Payment Hub & MEM Connector:
The Mekorma Payment Hub is a comprehensive platform for managing the AP payment batch process in Dynamics GP. The heart of the Payment Hub is the Action Board – one unified window where you can automate the batch building process, send approval requests, print, post and generate bank files. With Mekorma's customizable workflows, redundant processes are streamlined, but proper payment approval steps are retained to ensure accuracy and security.
By using Multi-Entity Management and Mekorma's Payment Hub, accounts payable professionals can access all of their different companies and chequebooks in Dynamics GP and limit the chance for error, lack of insights, and tedious manual processes.